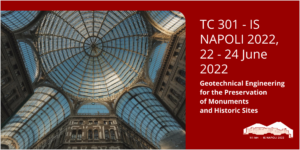 Il 3rd International Symposium on Geotechnical Engineering for the Preservation of Monuments and Historic Sites, organizzato dall'AGI e dal TC 301 dell'ISSMGE, si terrà a Napoli, dal 22 al 24 giugno 2022.
L'evento si rivolge non solo agli ingegneri geotecnici ma anche agli specialisti di tutte le discipline coinvolte nella salvaguardia e nella conservazione dei monumenti e dei siti storici. Le tematiche che il convegno si propone di affrontare sono descritte nella locandina allegata, e spaziano dai principi generali della conservazione dei monumenti, alle indagini e al monitoraggio di casi esemplari, agli effetti dello sviluppo urbano e degli eventi naturali sul patrimonio costruito, alle tecniche di mitigazione del rischio.
Il convegno inoltre ospiterà la terza Kerisel Lecture, dedicata dalla ISSMGE al pioniere dell'applicazione dell'ingegneria geotecnica alla conservazione dei monumenti.
La call for papers è aperta e i sommari vanno sottoposti attraverso il sito del convegno, sul quale saranno rese disponibili tutte le ulteriori informazioni.
Locandina: TC-301-IS-NAPLES-2022-First-bulletin
Sito web del convegno: https://tc301-napoli.org/