Home » Posts tagged 'Symposium'
Tag Archives:
Symposium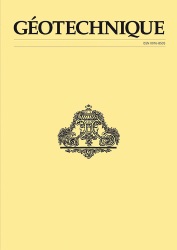 Vi segnaliamo il prossimo Géotechnique Symposium in Print e il numero speciale della rivista previsto per il 2019. Termine per l'invio degli abstract: rispettivamente, 30 e 7 settembre 2018.
Call for abstracts
LINEAR INFRASTRUCTURE
Geotechnique Symposium in Print 2019
Locandina: Géotechnique -Symposium in Print – July 2018 Call
Call for papers
EMBEDDED FOUNDATIONS UNDER COMPLEX LOADING
Themed issue
Locandina: Géotechnique Themed Issue – Call for Papers – July 2018

Dear colleagues,
I am pleased to convey to you the latest updates (Bulletin #5, in attachment) on the International Symposium on Energy Geotechnics (SEG-2018) under the auspices of the Technical Committee TC – 308 of ISSMGE, taking place at the Swiss Federal Institute of Technology in Lausanne (EPFL), Switzerland on 25-28 September 2018.
Best regards,
Alessio Ferrari
PDF: Bulletin #5

Dear Colleagues,
We invite you to contribute your innovative work in the International IACMAG Symposium at IIT Gandhinagar during 5-7 March 2019.
More details of the symposium are available on http://events.iitgn.ac.in/2019/iacmag/
The deadline for abstract submission is 3rd August 2018.
Per chiarimenti e comunicazioni non esitate a rivolgervi a: iacmag2019@iitgn.ac.in
Amit Prashant and Ajanta Sachan
Indian Institute of Technology Gandhinagar
Palaj. Gandhinagar
Gujarat – 382355; India