Home » Posts tagged 'foundations'
Tag Archives:
foundations

An opportunity has arisen for a Research Associate to work on experimental geotechnical laboratory and field studies carried out in conjunction with the ALPACA Joint Industry Project. The latter is a major research project that is being advanced in association with University of Oxford, funded by EPSRC and Industry. Professor R J Jardine is the Principal Investigator, with Dr Stavroula Kontoe as Co-Investigator. The project is directed towards the cost-effective design of foundations for offshore wind-turbines, especially those for chalk dominated sites. This is a fixed term appointment that will commence from December 2018 or later and extend up to end of February 2020.
Closing date: 28 October 2018
More information at: www.imperial.ac.uk/jobs/description/ENG00523/research-associate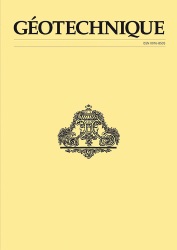 Vi segnaliamo il prossimo Géotechnique Symposium in Print e il numero speciale della rivista previsto per il 2019. Termine per l'invio degli abstract: rispettivamente, 30 e 7 settembre 2018.
Call for abstracts
LINEAR INFRASTRUCTURE
Geotechnique Symposium in Print 2019
Locandina: Géotechnique -Symposium in Print – July 2018 Call
Call for papers
EMBEDDED FOUNDATIONS UNDER COMPLEX LOADING
Themed issue
Locandina: Géotechnique Themed Issue – Call for Papers – July 2018